Jiří Straka
A Summer-sport Event Murderer
born in 1969, Prague
A sixteen-year old Jiří Straka attacked eleven women. It happened from February 17th to May 16th, 1985. Three of them did not survive. Straka attempted to murder the next two of them. He was led by his strong sadosexual tendency getting even beyond necrosadosexual tendency. Beside that, he was found guilty of five more acts of rape, three acts of robbery and six acts of stealing. All the murders of Straka's did disquiet all the women who were practising for the Summer-sport Event which took place in Prague. That is why Straka was nicknamed "A Summer-sport Event Murderer". As a teen-ager, Straka was sentenced to as the highest punishment as possible - ten years in prison. He was also enacted the compulsory sex-psychological treatment. If he had been two years older at that time, he would have been sentenced to death.
Jiří Straka is born to an ordinary family. His father is a builder working abroad very oftern. His mother is a warehousewoman. He is brought up by his mother who is rather strickt. He is chastised quite often. Although having an above-average mental abilities (IQ = 125), he does only well at the basic school. In September 1983, Straka enrolls at the boarding mining apprentice training centre in Stochov u Kladna, branch miner - mechanic. He is an average apprentice. When being at the centre, Straka starts stealing.
He attacks the first woman on February 17th, 1985 at about 9 p.m. It happens in Prague, on a path leading through a dingle near Novodvorská Street. He follows a twenty-year old conservatoress first. Then he attacks her, knocks her down and starts choking her. The woman fights back as much as she can. Having been fighting at least five minutes, Straka stops attacking the woman, but he keeps on lying on her. The woman starts talking to Straka and she even manages to make him go to her flat. And so they get to the first houses in the street lit with street lighting. When Straka tries to unbutton her anorak, roll up her skirt and starts kissing her, the woman starts screaming. Straka is affraid of someone else coming to help the woman and thus he leaves the place without saying a single word. Then he takes a night train and leaves for the boarding centre. The attacked woman does not consider Straka and his attack dangerous and that is why she tells nobody (including Police) about it. As the investigation of the following acts of murder goes on, this woman is found and provides the policemen with a detailed description of Jiří Straka which later leads to his arresting.
On April 8th, 1985 (Easter Monday), at almost the same place, Straka attacks from behind a twenty-three-year old woman and starts choking her until she falls unconscious. Straka drags her out of the path into a bush among trees. Since the woman starts moving, Straka fills her mouth with earth and leaves. Then he strips her off and rapes her. Having been raped, the woman still appears to be alive and thus Straka fills her nostrils with leaves and adds more earth and some stones to her mouth. Her even puts her pants into her mouth. Before leaving the place, Straka turns the woman's body face downwards, takes her necklace and covers her body with fallen leaves. He seeks through her dress too, but he finds a lighter only which he keeps. Then he takes a train and gets back to the training centre. Ever since Straka has been wearing his victim's necklace round his neck.
Police photograph of the scene of crime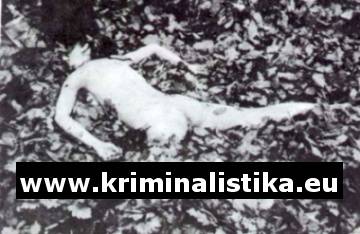 Almost one month later, on May 4th, 1985, Straka get on a tram where he notices a woman. She gets off at Prague - Hloubětín tram stop and so does Straka. He follows the woman. When she approaches her home, she starts looking for the keys. Straka attacks her from behind and starts choking her dragging her behind a lorry parking near there. Then he winds a rope, which he has on him, round her neck and knots it twice. The woman falls unconscious. He hides the body in the lorry under the tarpaulin. Before this, Straka takes her two silver bracelets, two rings and a digital watch. Finding out that the woman is much older than he expected (54!), he stops from raping her. He takes the woman's bag and her handbag and heads for a tram stop. Under one of the street lighting, he checks the bag and the handbag. He takes only a pack of cigarettes and 950,- Czech crowns. He throws the jevellery into a bush and the bag and the handbag into a sewer. Then he gets on a tram and returns downtown. He gets off at the Sokolovská tram stop. The woman, still having the rope round her neck, manages to get to a house, ring the doorbell there and ask for help.
The place where Věra F., M. D. was found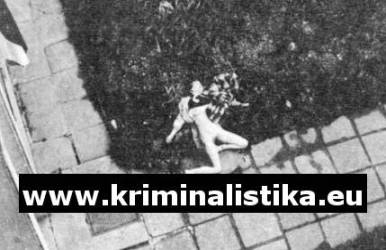 Straka strikes again. He gets on a tram at the Sokolovská tram stop heading for Hloubětín again. He gets off one stop earlier than he did before. He gets off together with a thirty-year old woman, a medicine doctor. Straka starts following her from a ten-meter distance. When they get on a remote place, he attacks her from behing holding her neck as if he wants to choke her and drags her behind a block of flats. As the woman fights back, Straka takes her high-heel shoe and hits her head until she falls unconscious. Then he strips her off and rapes her. But finding out that the woman is coming round, he kneels on her neck, takes her bra and winds the shoulder-strap round the woman neck and knots it twice. Then he steals 200 Czech crowns and a pack of cigarettes from her handbag. He throws the rest of her things away. After that he gets on a tram to dowmtown, takes the first morning train and leaves for the training centre. During the investigation, Straka tells the attorney that he knotted the shoulder-strap using as much power as possible because he wanted to kill the woman to prevent her from "betraying him".
The body of murdered Marta M., Dejvice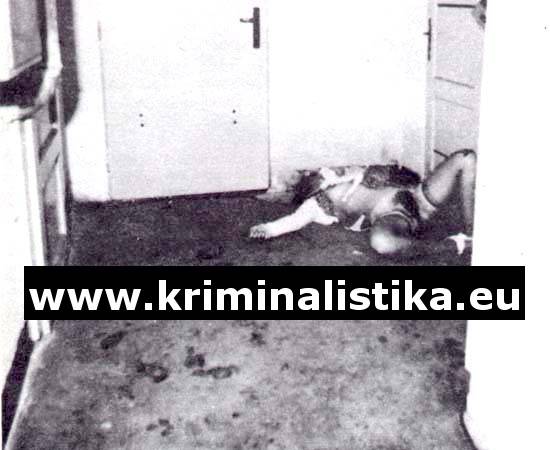 On May 16th, 1985, Straka strikes for the last time. He takes a seventy-centimetre long rope and tells his mother he is leaving for the training centre. But he wanders about Prague instead. He wanders about Dejvice late at night. He meets a thirty-year old woman near a park and he starts following her as usual. A few moments later Straka attacks her. From behind, as he usually does so. He collars her a drags her to a cellar in one of the near houses. He lays her on the floor there and winds a rope round her neck. Then he strips her off and rapes her. The woman roars, shudders, but does not fight back. The he takes her belt and winds it round her neck. Six days later, Straka is arrested at the training centre. More than a hundred of questionings, expert evidence and other procedures prove that Jiří Straka - if not having been arrested - was about to murder again...
Besides that, Straka attacks an eighteen-year old woman, a student, in the evening on March 15th, 1985. He wants to rob her only. When the woman is entering the house, Straka hits her head with a cobblestone. She falls on the pavement and calls for help. Straka steals her bag with 260,- Czech crowns, 10 money-vouchers and some biscuits that he eats immediately. Then he throws the other things away and runs away.
Ten days later, Straka attacks a nineteen-year old woman, a student, with the view of stealing her handbag. He attacks her from behind by gripping her hands, knocking her down trying to get on to her handbag. But the woman holds her handbag rigidly calling for help. Straka manages to get on to the handbag after the third attempt. The attacked woman spies on him, but turning into a street Straka escapes.
On April 2nd, 1985, after midnight, Straka attacks an eighteen-year old woman and tries to rape her. At a tram stop, that woman herself contacts Straka by asking him wheather he knows when the tram is coming. Straka offers to accompany her "so as nothing wrong happens to her". But in front of the house he blocks the entrance and starts pawing her. When the woman threatens with calling for help, Straka lets her go. But when she unlocking the door, Straka starts choking her from behing until she falls unconscious. When coming round, the woman sees that she is being stripped off and thus she offers him to go to her flat. In the hall, she sees that Straka does not pay attention properly, runs into the first floor where she rings the doorbells. Straka tells her off and leaves the house. But he manages to steal the bag with all her documents and 500,- Czch crowns.
Alice P. murder reconstruction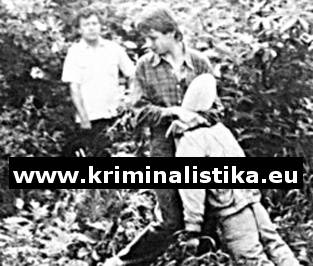 During the enquiry, Jiří Straka cooperates and describes his every single attack very precisely without any sign of sackcloth and ashes. According to the psychiatrists, Straka suffers from a complete lack of morals and feels. Within that range, these are rare with other adult murderers. Straka is even more dangerous due to his high IQ, a good sence of locality, preparedness, fearlessness and his appearance (he was 16 years old). During a murder reconstruction, local people ask policemen to leave them alone with Straka for a while to lynch him. Straka is attacked in prison as well. His co-prisoners are said to dig his genitalia up.
Jiří Straka, 2001
In May 1994, Jiří Straka is released from prison (thanks to the President Václav Havel's General Pardon) and put into a closed sexuology complex of the mental home Prague - Bohnice where he is undergoing protective sex-psychological treatment. When still in prison, Straka is neutered, but he refuses a brain surgical intervention. Nowadays, Jiří Straka can be even several days outside the complex of the mental home. Straka puts an advertisement in a paper and meets a girlfriend. She is older by two years, a mother of three. When in prison, Straka becomes a baker, gets baptized and becomes fond of Evangelic church. Straka's parents moved from Prague to some place in Moravia after the trial. They have never coped with what their son committed. The two different sources claim that when being out from the mental home, Straka takes drugs...
The order of the District Court in Opava overrules Straka's sex-psychological treatment and thus he is released from the mental home in Opava on December 24th, 2004.
© Miloslav Jedlička, D. C. L.
Translated by inspector WO Pavel Vršovský, M. A.