Jiří Kajínek
Born on January 11th, 1961, Prachovice (Chrudim region)
Jiří Kajínek represents an up-today criminal generation in the Czech Republic. He behaved in a highly "professional" way, his crimes were always well-planed, he was a self-disciplined man never hasitating to use a gun. Having committed a twofold assassination and a homicidal attempt, Kajínek was sentenced to life imprisonment. The then law enforcement authorities were proved to be unprepared for dealing with some very new forms of crimes and reveal an incredibly unprofessional conduct of the prison guards and their failure in handling with the dangerous criminals.
Jiří Kajínek is said to be the best-known Czech prisoner. The Pilsener Regional Court sentenced him to life imprisonment on June 23rd, 1998. On May 30th, 1993, at about 8:00 p. m., on the turns under the Pilsener prison Bory, Kajínek shoots dead a local businessman Štefan Janda (27) and his bodyguard, Julián Pokoš (30). They are traveling in a white Mazda. Vojtěch Pokoš (25), another bodyguard of Janda's, is seriously injured. Luckily, he survives after a well-timed operation and becomes a key witness.
The judgment record amounts to 10,000 pages and the court deals with the matter for 46 days. The trial is adjourned several times and lasts for more than four years. Fifty-six witnesses and almost ten authorized experts testify. The regional court reasoned judgement consists of 130 pages. Kajínek denies his implication in the crimes. Antonín Vlasák, a businessman from Prague, is blackmailed by Štefan Janda and thus Jiří Kajínek is said to be payed 100,000 CZK to intimidate Janda. But Kajínek does more than he is supposed to do. What is more, he should be in prison as having been sentenced to eleven years for robbery with violence he committed in Prague 4. He attacked policemen and stole their vehicle and guns.
On January 18th, 1993, the prison governor abandons Kajínek's term from January 21st do January 23rd, 1993. He does so on the penitentiary committee (consisting of a head of the detention and punishment department, a psychologist, a social worker and a trainer) advice. The committee finds Kajínek to be conscientious, willing, initiative and hard-working... On the other hand, he has been designated as a dangerous habitual offender having no privilege. For the first time, he breaks the law as a teenger in 1974. He is imprisoned for burglary in 1982. He is on trial three years later again: apart from burglary, he is accused of an unlawful arming and attacking the public agent because he attacked and hurt three policemen with an iron rod when being arrested. As the then President Havel proclaims the General Pardon in May 1990, Kajínek is released from prison. Later on, he is sentenced to a seven-year imprisonment for breaking into twenty flats. But he does not serve the whole jail sentence, he is released on parole. He commits an armed robbery short after his release...
Eva Musilová, a former government officer Ing. Petr Musil's wife, stands security for the Kajínek's two-day release. She made "above standard" calls on jailed Kajínek. After his escape, she helps him to hide. She is in connection with him all the time just to help him in hiding from Police. Ing. Petr Musil and Jiří Kajínek meet the then Minister of Justice, dr. Novák, to require the robbery-sentence revision. Kajínek is not taken into prison. Four months later, he murders the people mention above.
Kajínek is arrested in Hostýnská Street, Prague, on February 8th, 1994, when embussing a luxurious Mercedes, parked in front of the house he is hiding in, with three machine-guns, eight pistols, a shut-gun and almost 10,000 bullets. A pistol with a blow-out disc, a dirty-trick device, is found there too. But Kajínek has his gun on him. The police operation is well-timed and he has no time to use that gun. Some antiquities are found in "his" flat, as well.
Jiří Kajínek on trial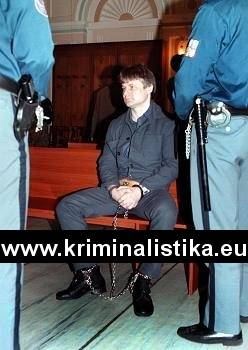 He is taken to Pilsener prison Bory. Two months later, in April 1994, Jana Škardová sends him a parcel containing a knife with a twelve-centimeter-long blade. Škardová is an employee of a private company and she works in the Bory grocery's... Kajínek plans another escape from the prison and Škardová is said to get a rather high extra money for doing him such a kind of "favour".
A twenty-seven-year old member of the Bory prison guard is prosecuted at that time. He enabled the accused to meet people outside the Pilsener-Bory guardhouse. He carried out letters and some sweepstakes tickets from the prison too. And that is why Kajínek is taken in the stockade in České Budějovice. In July 1994, Kajínek tries to escape but he is caught by the river Vltava the very same day.
Jiří Kajínek in prison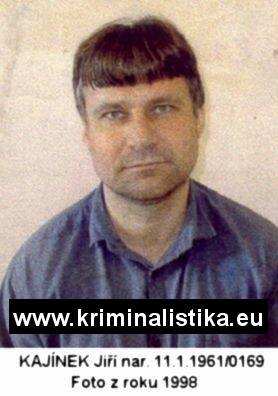 On September 11th, 1996, Kajínek tries to escape from the Valdice prison where he has been taken after his attempt to escape from stockade in České Budějovice. Kajínek is found on a two-storeyed shelter roof after a twenty-minute search. But a casualty tragedy will follow. In March 1997, Kajínek is escorted to the Pilsener Regional Court and a road casualty happens. A BMW driver does not pay a proper attention and crashes into one of the police cars at the crossroads. Two women die and some other people are injured. Kajínek is found guilty and put into the best guarded prison, Mírov. Nevertheless, he manages to escape on October 29th, 2000 at about 6:15 p. m.
His escape rises lots of shady speculations including "the guarateed information" about Kajínek's violent death. A foreign maffia is said to be involved in setting Kajínek free. What is more, a dangerous criminal, Ryszard Niemczyk, escapes from the Wadovice prison, Poland, at the same time. Media start to emphasize Kajínek's high intelligence and, on the other hand, infirm his criminal past.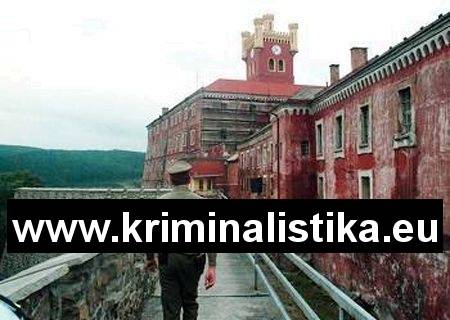 On December 8th, 2000, in the late afternoon hours, Jiří Kajínek is arrested by the members of the Czech elite police department URN (the department which is similar to SWAT in the USA). Kajínek is said to be a man of a high intelligence and thus it is rather strange that he was arrested in the flat of a fivefold murderer, Ludvík Černý. Černý was sentenced to life imprisonment and has been doing time in Mírov prison.
On August 5th, 2010, a movie named "Kajínek", directed by Petr Jákl, Jr., is run for the first time in the Slavic Home, Prague. It is more than seventeen years after Kajínek had committed his crime and more than twelve years after he had been sentenced. Jiří Kajínek is performed by Konstantin Nikolajevič Lavroněnko, a Russian actor. The cost of performance reaches 50 million CZK. From the point of view of the vast majority of judges, supervising prosecutors and the criminologists, the movie glorifies a murderer and impeaches the Czech criminal law and the Czech justice. Journalists write on that case having not read a single line of the file containing more than 10,000 pages...
The escapes uncover the inadequacies in prison service in the 1990s. All the troubles result from an unprofessional handling with the criminals and overhumanization of the prison service. We will hear from Jiřím Kajínek in future again, I am affraid.
© Miloslav Jedlička, D. C. L.
Translated by inspector WO Pavel Vršovský, M. A.