Štefan Svitek
Born on January 23rd, 1960, Podbrezová (Slovakia) - executed on June 8th, 1989, Bratislava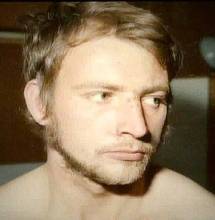 Štefan Svitek, born in Podbrezová, is the last executed criminal in the former Czechoslovakia. The Regional Court in Banská Bystrica sentenced him to death for a threefold bestial act of murder. The twenty-seven-year-old habitual criminal Štefan Svitek had spent more than eight years in various prisons before comitting his very last crime. He was sentenced for a blackmail last time.
Svitek married to a woman who had a daughter from her previsou marridge. They have a daughter too and his wife is going to have another baby with him. Svitek has been drinking since morning one day. Having been working in the woods and drinking all day long, Svitek goes to a local pub. He returns home at about 11:00 p. m. His frightened wife and children, knowing about Svitek's tendency to aggressiveness when drunk, hide in the bedroom letting Svitek beat at door. His wife start shouting at him to go away and leave them alone. She should not do that. It may be her shouting that gets him into a flap. Svitek takes an axe and breaks into the bedroom. His wife does not manage to escape. The furious Štefan hits her head several times - her left temple, chin and neck. Then he attacks his spleeping daughters (4 and 6 years old) and smashes their heads with the axe too because he thinks they have woken up (he said during the police investigations). But that is not all. Reading that you are sure to find such a behaviour stomach-rising. The following may be seen in the most hair-rising thriller only. He cuts all the dead bodies into pieces and masturbates over them several times. Using the axe and a knife, he cuts open his wife's chest and abdomen. He cuts her breasts off and scatters her entrails round the bedroom. There is nothing to stop him, even his wife's advanced pregnancy. Using a razer, he cuts the still-living lithopaedium into pieces and eviscerates it. He does the same with his daughters' dead bodies. Then he has sex with his dead daughters' bodies.
Svitek found a knife and the feeling of pain to be an incendiary objects to him long before. A strong sadistic and masochistic tendencies occur especially when Svitek is under the influence of alcohol or analgetics. Having sex with cows and bull castration have been Svitek's strongest sexual experience until that day. Having committed such a terrible crime, Svitek leaves for Čierny Balog where he breaks into the house where his parents used to live and is said to try to commit a suicide. Svitek is arrested two days latter.
Štefan Svitek short after being arrested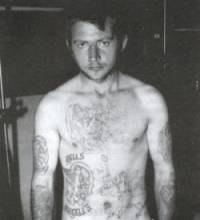 According to the specialists, Svitek is a very aggressive, psychopatic person suffering from a serious emotive disorder, tending to sadomasochism and zooerastia. He is alcohol and analgetics addict. The experts come to the conclusion that handling the dead bodies has been a new and the most exciting experience he ever had. He has become more experienced and thus there is a real danger of committing such a thing anywhere and anytime. His dreams of teasing women or animals has fulfilled so the possibility of recurrence grows higher. The experts claim that any "re-education" is impossible. In the interest of the society, the Regional Court in Banská Bystrica sentenced Štefan Svitek for the crime committed on October 30th, 1987 to death. Svitek was executed on June 8th, 1989.
The text written in Slovak and the photographs sent to the Museum of Crime by
Natalia Novotná, M. A.
Košice
Slovakia
© Miloslav Jedlička, D. C. L.
Translated by inspector WO Pavel Vršovský, M. A.