Martin RoháÄŤ
executed on February 17th, 1571, Velká Bíteš, Bohemia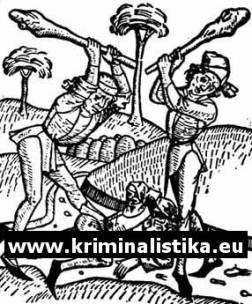 Martin RoháÄŤ from Velká Bíteš is undoubtedly the biggest robber and murderer in the history of Bohemia. He is executed on February 17th, 1571 in his hometown. He and his gang of robbers commit eight robberies, a burglary, and rob and murder 59 people in three years. There are seven women among his victims.
The gang of robbers and cutthroats consists of eight soldiers who fought the Ottomen in the emperor Maxmilian II army and who were civilianized. The emperor makes peace with the Ottomen in 1568. A part of the emperor's army is disembodied then. They usually put on a line of crime. Soldiers trained to kill and plunder join them very often. The unarmed merchants and craftsmen are relieved of their money and goods. The murdered are relieved of their clothes. An exceptional violence and recklessness are typical of that gang. Near Kojetín, Moravia, they garrotte a cooper although he has nothing to be stolen...
A married couple assassinated in front of their house (a gravure from 16th century)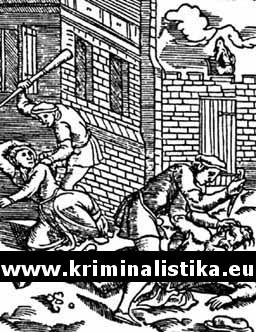 Martin RoháÄŤ and his gang start murdering in Transylvania. They bushwhack and murder four men there. They steal twenty-four gold nuggets and their clothes. They murder a merchant near Vienna and steal 40 gold nuggets, two muskets and his clothes. They eke out their arsenal with two more muskets and two rapiers later on. Near Stupava, they traverse the assulted's hand with the stolen rapier and rob him of 14 three-scores of money. They murder other people near Bratislava (Slovakia), in Uherské HradištÄ›, Uherský Brod, near Bánov and in Velké Bílovice.
In HustopeÄŤe, near Brno, they murder three men within a single day. They rob the murdered of 7,5 gold nuggets. In the same village, they rob the drapers of ninety cubits of woollen-stuff. They murder two people in Újezd, Poštorná and near IvanÄŤice. The gang starts to fall apart after that. Some members of the gang have already got home, some of them have lost their way home. Jan RychtaĹ™íÄŤek from Rosice, a member of the gang, refuses to participate in their forays. But Martin RoháÄŤ makes him join them under the threat of violence.
Martin RoháÄŤ from Velká Bíteš, Mikuláš MíÄŤa from PĹ™edklášteĹ™í near Tišnov and a Jan ÄŚech, a butcher, set on their way to Bohemia. Although the gang becomes weaker, their atrocity rises.
The tortural operating instructions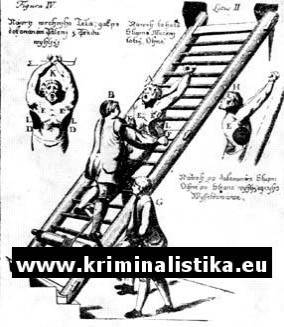 Three pregnant women from MÄ›lník, ÄŚáslav and Chrudim are murdered in a rather appalling way. The foetuses are cut out of their dead mothers' bodies. The murderers eat their hearts, lungs and livers "to become even bolder and strong enough for longer time..."
It is a sorf of superstition of all the criminals from the then Central Europe. So is cutting off the newborn babies' fingers. The fingers are waxed and used as candles during the housebreakings at nights. The candels are called "the thievish lights" and the superstition goes that the candels have the power to make the sleeping people sleep even deeper. Nevertheless, such a superstition occurs for the very first time in Nuremberg seven years later (1577).
Mikuláš MíÄŤa is the first to be arrested and questioned in Tišnov. Martin RoháÄŤ is arrested and questioned in Velká Bíteš a few days later. The hearing of an accused seems to be rather cruel in the 16th century. Some people might even call it "a torture". That way of hearing makes the accused to plead guilty and to disclose their companions. On the other hand, there are no doubts that Martin RoháÄŤ, Mikuláš MíÄŤa and the other members of the gang have committed the crimes mentioned above. Everyone of them is "questioned" at a different court. But their allegations correspond in the details of all the committed crimes.
Martin RoháÄŤ is condemned to death on February 7th, 1571. The sentence is as cruel as were his crimes: his fingers will be cut off first, he will be taken to the place of execution then, the executioner will wrench off some parts of his body by forge tongs then, his limbs will be broken on wheel where he will stay till he dies. Martin RoháÄŤ is executed on February 24th, 1571...
© Miloslav JedliÄŤka, D. C. L.
Translated by inspector WO Pavel Vršovský, M. A.