Hubert Pilčík - a possible multiple murderer
Born on October 14th, 1891, Nový Hrozenkov - died on September 9th, 1951 (suicide)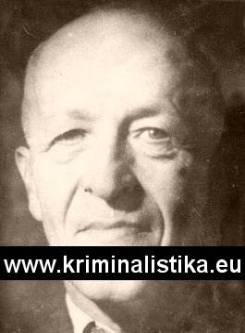 The political system has changed in Czechoslovakia after February 25ht, 1948 and lots of people are leaving the country. It is estimated that 250,000 people left the then Czechoslovakia. Hubert Pilčík from Senec, Plisner region, offers those people help in crossing the frontier. But he takes them to the shade where he murders them and takes possession of their belongings. No one ever learns how many people Pilčík murdered.
The old gamekeeper's house called "Lipovka" is set on fire in the evening of March 6th, 1951. It is not far from the small village Nekmíř. A burnt human body is found at the seat of fire the very next day. The body is thought to be poured with some flammable liquid and set on fire. Alhough the fire was heavy, some things are found lying next to the body: a big metal shoe-buckle, a metal cross-tie from a men's shirt and a pair of dioptric glasses. A chainlet consisting of rectangular links is found on the neck of the dead body. The corpse is sure to be a man's one.
According to the autopsy, the dead used to be a man at the age of 50 - 60, high 170 - 175 centimeters. The medical experts are sure the man was still alive when dying in fire as his blood was boiling in his arteries. The cause of death is unknown. The Autopsy Report literally says: "Both the limbs and the inwards not found." The following search for identity of the dead man is ineffective.
The burnt-out gamekeeper's house called Lipovka

Some children find a human leg in sand when they playing in the woods near Senec on July 20th. A half-nude woman's body is found in a shallow grave. She was about 30 and the body is in a progressive fetid stage. There is a rope round her neck and she has a peg in her mouth. There are no doubts the woman has been murdered. It is ten kilometers from that place to the place where the burnt body was found. The autopsy proves that the body lay in that grave for 3 - 5 months. Two unusual dental crowns, made by the acolit-inlay method, and a mat of hair are to help the criminalists to identify the woman. A criminalist makes the rounds visiting every dentist showing them the two dental crowns. A pilsener dentist recognizes them at the of August 1951. He tells her name and address: Renata Balleyová, born on January 1th, 1920, single, working as a photographer in Pilsen.
The police investigations prove that Renata Balleyová was getting ready to emigrate from Czechoslovakia. The criminalists get a minute description of Emanuel Balley and his daughter Renata. A relative of them says Renata Balleyová, her father Emanuel Balley and their twelve-year-old niece have left Czechoslovakia and are supposed to be staying in Bavaria. She even has a letter written by the twelve-year-old girl and sent from Bavaria. She says she wanted to emigrate too and thus she visited "the courier" in his house. In Senec, she herself recognizes the house (Nr. 149) Hubert Pilčík and his wife live in.
Huber Pilčík is the only person who can explain the variances in the facts of the death of Renata Balleyová and her father when they (and their a twelve-year old niece) are said to be staying abroad. Pilčík is a retired man having a good reputation. He is keen on collecting of medicinal herbs and hiking. He likes birds. He is even said not to give his consent to cut down an old pine tree as the birds would not have where to nest. He says he used to be a sailor and a sinking of the Titanic survivor.
Hubert Pilčík is arrested in early September 1951. Two policemen wearing dungarees and pretending to be the employees of the electricity plants enter his house. When they find Pilčík to be home alone, they arrest him. Remember that any specially trained task forces do not exist at that time. Pilčík is proved to be a particulary dangerous offender later on. The house search proves Pilčík to be Renata Balleyová and her father murderer. What is more, Pilčík is suspected of committing some more murders.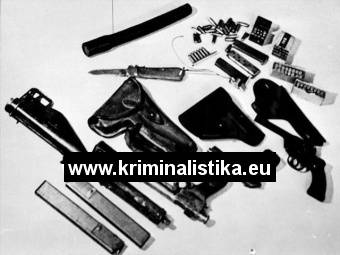 Weapons found in Pilčík's house
A twelve-year old niece, who is supposed to live in Bavaria, is found in Pilčík's house. Four weapons, including a machine-gun are found there too. A lot of jewellery is found in his house. Some of them are the property of Renata Balleyová. The house search reveals a place where suitcases filled with clothes and shoes are hidden. A charred rests of an identity card belonging to a person who wanted to get abroad are found in the pile of ashes in the garden. Twelve expensive women's fur coats are found in the house, as well.
Pilčík's instruments of torture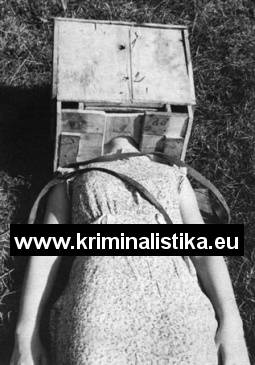 A strange facility is hidden in the cowshed. It consists of two long planks with belts and a small box. Later on, Pilčík admits under the weight of evidence he used that facility to torture Renata Balleyová's niece. Nobody should know that she is in the cowshed and thus she is strapped to the planks having the box over her head in case she cries. It is a double wall box filled with old rags. The cover of the box is equipped with a tubule. The twelve-year old girl had to have the tubule in her mouth to be able to breathe. She spent that way 16 hours a day for two months. She even could not go to the toilet or defend against the nagging insects. She deposes she was not only tortured by Pilčík but sexually abused too. He also made her write letters which should make their reader think that the writer lives in Germany. Pilčík himself delivers those letters to the relatives of the murdered so they are sure Renata Balleyová, her father and her niece have managed to cross the frontiers. He wants some jewellery for a single letter.
The double wall box the twelve-year-old girl's head was fixed in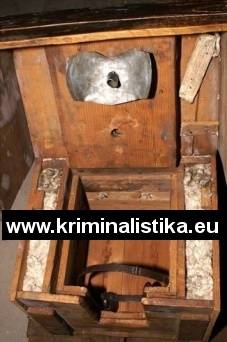 Pilčík denies murdering those people at first. But there is a great variance in his statement. Pilčík pleads guilty under the weight of evidence. On March 6th, 1951, Pilčík gulls Emanuel Balley into the lodge called "Lipovka". Mr. Balley is supposed to meet a courier there. That courier takes him over the Germany frontiers. Balley takes a nap before the long way. When he falls asleep, Pilčík hits his head several times with a rubber truncheon and a bronze roundlog. He covers the body with some straw then and pours it with some liquid he has found in the lodge. Then, he sets the lodge on fire, takes Mr. Balley's belongings and leaves for Senec at night.
He gulls Renata Balleyová to the forest near Senec eleven days later. The pretext stays the same. When she is not looking at him, he takes that truncheon and hits her head several times. The he winds a rope round her neck and puts a peg into her mouth. He earth the body after that and take her luggage to his house. Lots of jewellery, clothes, suitcases and shoes are found in his house. Pilčík claims those things are just presents from the people living abroad now...
Hubert Pilčík's head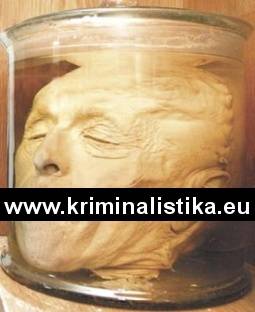 Pilčík also admits that he wanted to murder the twelve-year old Renata Balleyová's niece, another relative of hers and his wife, too. He thought them to be incommodious witnesses. He was about to murder them on September 9th, 1951. But he commits a suicide in the Pilsen - Bory Prison that day. He uses two handkerchiefs to hang himself. He is thought to murder many more "emigrants" as lots of jewellery, clothes, shoes and suitcases are found in his house. The jewellery was the only currency of the Czech emigrants and thus he is rather improbable to be given it as a kind of reward for his "services"...
Jiří Sequense takes a famous series called "30 cases for major Zeman" in 1975. A part called "The Beast" is based on Hubert Pilčík's case.
© Miloslav Jedlička, D. C. L.
Translated by inspector WO Pavel Vršovský, M. A.