Johann Georg Grasel
born in Nové Syrovice near Moravské Budějovice on April 4th, 1790
executed in Vienna, on January 31st, 1818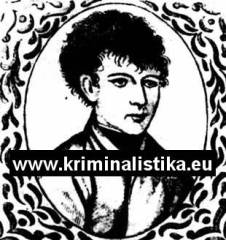 Thanks to the folk literature, Jan Jiří Grasel becomes a brave man who "takes the rich and gives to the poor". He and his gang commit 205 crimes. He himself murders two people. He and sixty-six pals of his are sentenced in the end.
The two of them - Ignác Stangel and Jakob Fähding - are executed in the Rossauer Barracks yard in Vienna the same day like Grasel.
The "famous robber" is illiterate. His father, Thomas Grasel, used to be a bumble. However, he commits lots of crimes and thus he is officially branded as "a dangerous loafer". He is going time in Špilberk Prison, Brno, in 1792 - 1809. His mother, Regina, is arrested in 1801. At the age of nine, Jan Jiří Grasel is sentenced to a whipping and a fourteen-day imprisonment for pickings and stealings. The sixteen-year old Grasel and his pals commit their very first housebreaking in Raabs, Austria. His share in the haul is rather deplorable: two bed sheets and a blue bedcover... Six years later, in June 1812, he murders Michael Witzmann, an innholder from Obergrünbach.
Another portrait of J. G. Grasel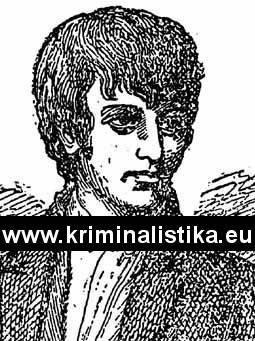 The Police notice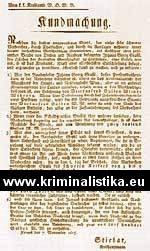 Grasel and his pals become a real danger to the commons. In 1815, Grasel a pal of his, Zottl, decide to buy a bottle of gin and thus they go to a local shop in Studnice, near Jindřichův Hradec. He is recognized by the local people. There is a crowd of enraging people waiting for him in front of the shop. They want to commit him for trail. Zottl is caught, Grasel manages to escape.
In November 1815, a four-thousand-gold-nugget reward for recapturing Jan Jiří Grasel is announced in Bohemia, Moravia and Austria. The police notice writes if a pal of Grasel's helps to catch Grasel, he is promised to get a half of the reward and to become nonpunishable. If anyone suppresses the information about Grasel and his gang, or if anyone even helps him to cheat the justice, they will be sentenced to hard labour for three or four years. Those who contribute to arresting Grasel will be rewarded 500 gold nuggets. The arrest order includes a minute description of Grasel.
Jan Jiří Grasel is caught thanks to Mr. von Okacz, the President of the Brno Police Department, who sets a trap for him. A David Mayer and a Penkhartová, the former thief, team up with him. Both of them are taken to Drosendorf prison. Terezie Hambergerová, a mistress of Grasel's, is doing time there. Mayer puts up an escape from the prison which gains him her overweening confidence. She arranges meeting Grasel for him. Grasel is arrested under a rather dramatic circumstances in a pub in Martersdor, Austria, on November 18th, 1815. Grasel puts up a resistance. But the local barflies help Mayer overcome Grasel's resistance. Grasel is put to a special cage which is made of iron rods and taken to criminal court in Vienna.
The Police drawing of Jan Jiří Grasel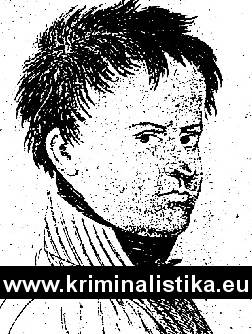 The police investigations of crimes committed by Jan Jiří Grasel and his gang take more than a year. Grasel's statement itself amounts to 568 pages. 214 people are involved in the criminal case called "Grasel and Co.". Several suspected die in custody. Finally, the Vienna criminal court sentences fifty-nine criminals to multiyear penal servitudes or hard labour. Grasel and seven more criminals stand upon the military court as they are deserters. The three of them: Jan Jiří Grasel, Ignác Stangel and Jakub Fähding are sentenced to hanging.
The execution of Johann Georg Grasel (also known as Hansjágr or Niklo) and the two pals of his takes place in public, early in the morning, on January 31st, 1817. The military court's sentence is printed in 15,000 copies. The Army Council receives 1,4000 copies and 150 copies are handed out before the execution begins. The rest is sold out in favour of the blind orphans, 10 Kreutzers per copy.
Grasel (in the middle) and some pals of his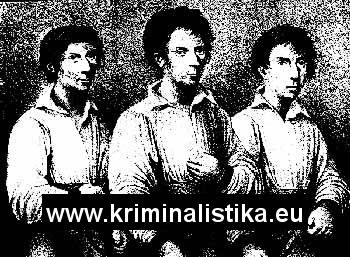 The name Grasel [gra:zl] is known and used not only in Bohemia and Moravia, but in all the German speaking countries too. It means "a blackguard".
© Miloslav Jedlička, D. C. L.
Translated by inspector WO Pavel Vršovský, M. A.