Roman Kučerovský
Born on September 6th, 1956, Brno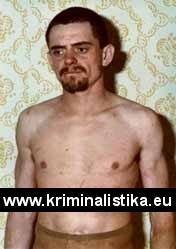 Roman Kučerovský - the former wrestler - murdered his girlfriend in her flat on April 4th, 1984. He cut her body into pieces a tried to burn it. He put some parts of her body into the suitcase and threw it in the river Svratka. Kučerovský takes a twenty-two kilo part of her body home. For this kind of crime, Kučerovský was sentenced to twenty-four years in prison. Before doing that, Roman Kučerovský had been prosecuted two times and since 1975, he had been on the list of alcohol and toluene addicted. That particular day, Kučerovský gets into his girlfriend's flat and using the blade, having on him, he hits her chest twice. He orders a three-year-old -Jitka Bezděková's son to hide under the feather bed and then he cuts her head off. Finding an axe, he starts to cut the body into pieces. He cuts her head in halves and takes her brain out. He skins the parts of the dead body and tries to burn them in the stove in the kitchen. He also burns her coat and shoes.
Jitka Bezděková - the Victim of Roman Kučerovský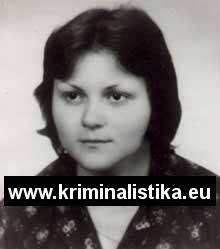 Finding out that he cannot burn the body completely, he takes the parts out of the stove and puts them into a suitcase. He adds two more parts there, including her liver and lungs. Then he takes the suitcase and empties it into the river Svratka. After that, he returns to the scene of crime and takes the twenty-two-kilo rest of the body, including the cerebral cortex, her left lung, liver and kidneys, to his flat. Leaving his dead girlfriend's flat, he tries to set it on fire, leaving the child in. But a man living next door notices things and thus, thank to him, the child was rescued and the fire was kept down.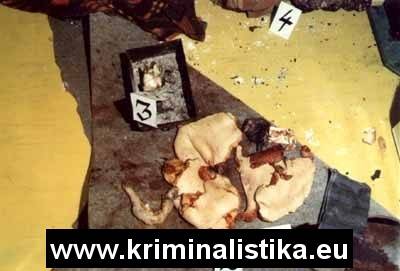 Roman Kučerovský is arrested the same day in his flat. There is no furniture in the flat, the floor is devastated and so is the door and the plaster. He has only some stokings on and he is stained with blood. During the police investigations, Kučerovský tries to attack the policemen and the authorized experts. He denies being involved in the murder. Four months later, after having been examined thoroughly by the authorized experts, Kučerovský pleads quilty and gives more information about the murder. According to his statement, the victim's left leg is picked up from the river. The criminal motive has never been reliably proved. The only obvious thing is that it was not a sex-motived murder. In 1990, due to the wide-spread general pardon, Roman Kučerovský is released from prison. He spent there only and only six years...
© Miloslav Jedlička. D. C. L.
Translated by inspector WO Pavel Vršovský, M. A.