Vojtěch Běloch
Born on June 30th, 1931, Ratíškovice - executed in April 1975, Prague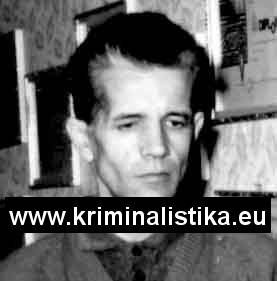 In December 1973, in his flat in Dubňany near Hodonín, Vojtěch Běloch sexually abused (two times) little new-girl Marcela Konečná and then, being affraid of disclosure, he choked her to death. The general public found this tremendous, signed a petition and wanted the court to sentence Běloch to death. There even was a real danger of Běloch being lynched by public during the reconstruction of his crime...
When attending a basic school, Vojtěch Běloch completed five classes only. When committing his crime, Běloch is 42 years old, married, a father of three children, employed as a miner in lignit colliery in Šardice. In 1958, Běloch is sentenced to ten years in prison for sexual abuse of three children at the age of 8 - 11. After five years in prison, Běloch is placed on a six-year probation. One of the reasons for his releasing is seventeen disciplinary awards... In 1965 - when being placed on probation - he is again sentenced to eithteen months in prison for sexual abuse of a ten-year old girl. The remitted five years of penalties are added to this sentence. On May 9th, 1965, his sentence is reduced by eithteen months according to President's General Pardon. Vojtěch Běloch spent ten years in prison for little children sexual abuse. He is released in spring 1970.
Little Marcela Konečná - Vojtěch Běloch's victim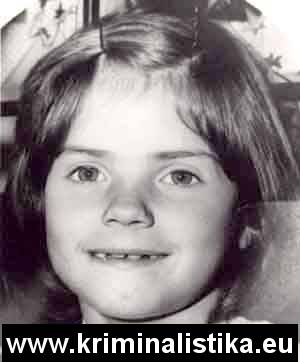 On Wednesday, December 5th, 1973, at about 12 o'clock, Vojtěch Běloch meets his last victim, little Marcela, when she returning from school through the woods. He deludes her to his flat under the pretence of showing her fairy-tales book. To ensure her nothing wrong happens, he persudes her that her mother is there as well. Not to attract anybody's attention, he orders Marcela to go ten meters behind him. Having come to his flat, he breaks down her opposition and, despite of her crying, rapes her. Twice! Then he chokes her to death. After that he leaves his flat to buy some bottled beer in the local shop. On his way to the shop, he meets a few people, which is good for him as a kind of alibi. In the mean time, little Marcela is being seeked by her father.
The house Marcela Konečná was murdered in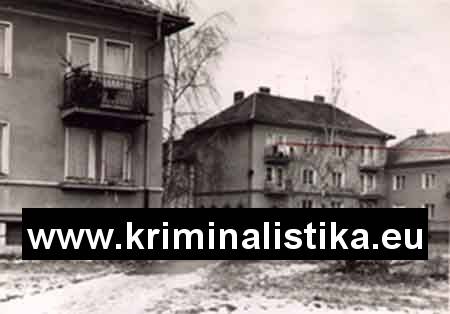 Having set up an alibi, Běloch returns to his flat. He puts the dead body into a sack and it gets dark, he takes his motorbike and leaves the dead body in the wood. At that time, everybody, including policemen, is looking for the little girl... in the wood, he earths the corpse, covers it with branches and her jacket, school bag and other belongings of hers scatters round the city. The corpse is found after a seven-day search. More than 200 inhabitants, policemen and soldiers are involved. Lots of them took leave or time off. But Vojtěch Běloch is - thanks to an excellent job of a team of criminalists - in custody, where he prays whispering it started to snow so that the corpse would never be found.
Běloch showing the way he got the dead body to the wooods.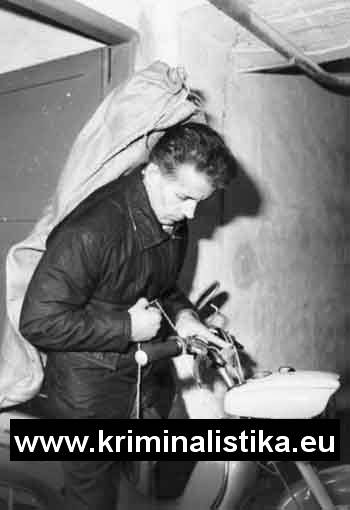 Běloch changes his statement at least ten times. What is more, he admits he sexually abused some other children. He even claims he tried to rape a woman which he drowned later on. The drowned-woman body is found but the checkups and criminalistic techniques and methods prove that he made it up and that it was not him who had done it. His wilful lying is proved by psychologists and psychiatrists. Sexuologists find out Běloch suffers from paedophilia with fetishistic elements. Change for the better impossible. Běloch is sentenced to death. Except this, he is ordered to pay 7,089.10 Czech crowns to little Marcela Konečná's parents. He never did so...
© Miloslav Jedlička, D. C. L.
Translated by inspector WO Pavel Vršovský, M. A.